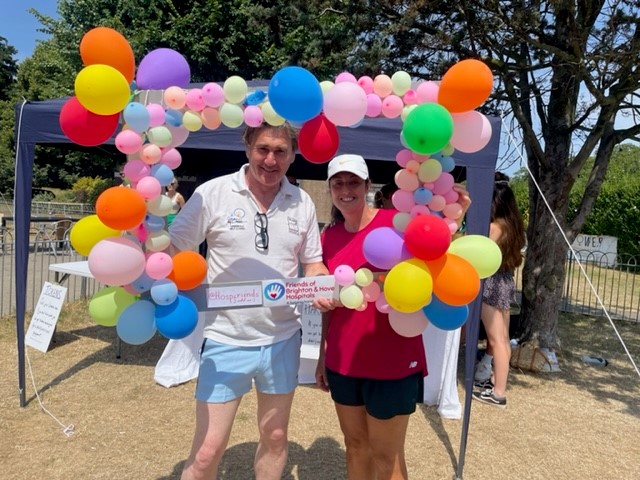 Tennisathon raises £3,160
On Sunday 17th July we had great fun at our Tennisathon and Family Fun Day with the help of the amazing Hove Park Tennis Club members, Hove Park Café, and everyone else who volunteered or came to enjoy the fun. We managed to create a day filled with cake, raffles, tombola, sand art, a Punch and Judy show and much fun and games. Suspiciously Elvis came along and did a brilliant set and amused us all with his repartee. And of course, there were many fabulous games of tennis.
Actor, Ian Kelsey (aka, Dave Glover in Emmerdale; Patrick Spiller in casualty; Howard Bellamy in doctors) heroically took tennis racket in hand and played a game, despite the baking Hove sun. Rumours are that another player kindly showed him how to play tennis just before he started – which might explain why Elvis (suspiciously) kept jumping in to help – much to the dismay of the Chair umpire. (Rumours have it that Ian is not a real doctor either).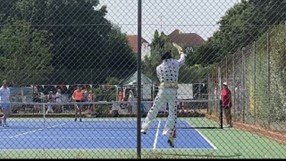 Peter Fullelove, an inspiring Chelsea Pensioner, kindly came along to support the event posing for endless photos, including one with a very cute pooch. True to form, he soldiered on in the heat in his immaculate uniform telling us it is part of his duty to help deserving causes and to never refuse a photograph (even though he's a little camera shy.) You can read a short interview with Peter on our Instagram @friendsofbrightonhovehospitals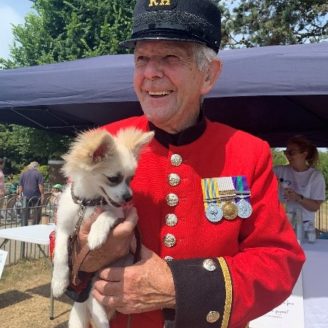 Overall, we raised £3,161. Without everyone's staggering help and enthusiasm, this would not be possible. So, thank you everyone, without your acts of kindness we wouldn't be able to provide the Small Acts of Friendship which make life better for people in our local hospitals.
Our next fundraiser is the Big Brighton Sea Swim which is a collaboration with Sussex Dolphin Project. You can swim 1, 3 or 5 miles along the shoreline starting at Hove Deep Sea Anglers beach on Sunday 2 October. You can find all the details and sign up here https://www.eventbrite.co.uk/e/360469593257
Once again thank you to everyone who attended and participated and to all our wonderful volunteers. working to raise funds, but also helping to make it such a terrific day.