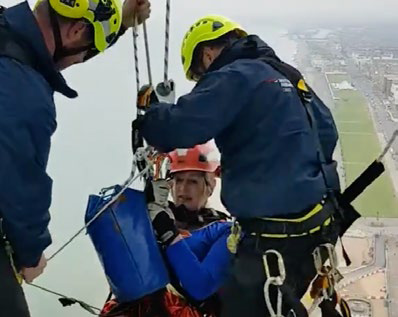 Sponsored iDrop on 20 June 2021
To celebrate 50 years of maternity services in the Tower Block at the Royal Sussex County Hospital, we are going to abseil the i360.
Our Chairman, Glynn Jones, along with local celebrity Suspiciously Elvis and over 30 other participants will be making the 162m descent from the i360 pod down to the seafront below. The first group set off on Sunday 20 June at the early hour of 6.30am to see the sunrise across Brighton and the next group depart at 8.10am.
Trustee and former Labour MP, John Austin will be taking the plunge with his daughter Zoe and grand daughter Tilly to make it a family affair. Help John smash his £2,000 target and donate today, click here