Sea Swimming and the Friends.

Sea swimming is something we are getting more and more involved with. There are clear health and well-being benefits, and because of its increasing popularity, it presents us with excellent partnership and fundraising opportunities. When the hospital site which is now the Royal Sussex County Hospital opened in 1828 it was called the Sussex County Hospital and Sea Bathing Infirmary, so we have a long history in this area and will build on it in the coming years.
Chris Rendel, Chair Friends of Brighton & Hove Hospitals
Have you tried sea swimming yet? If you have, you will likely be aware of how fantastic it can make you feel.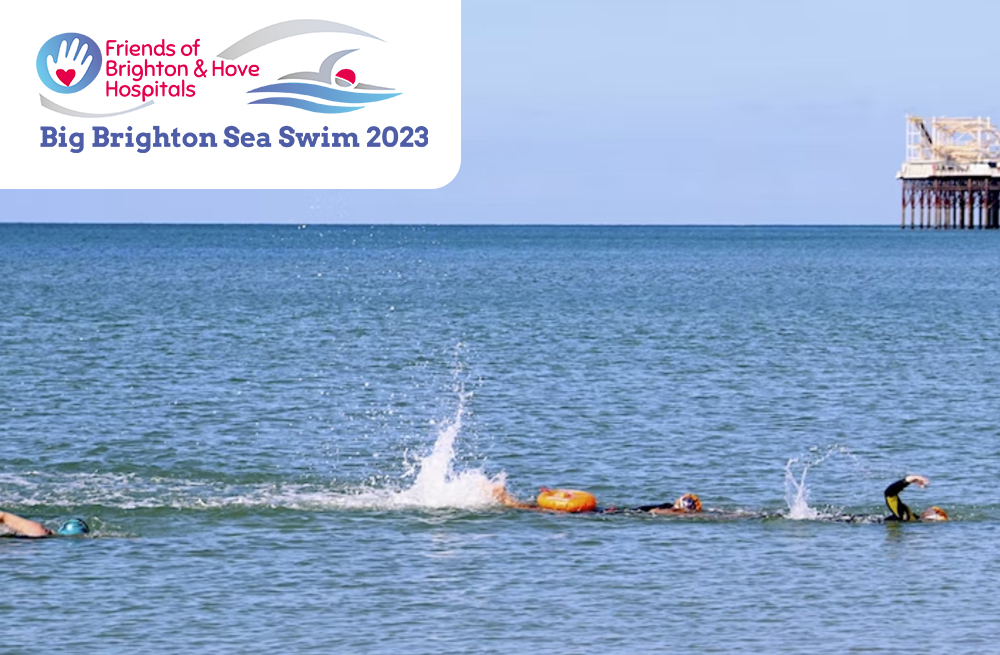 We're inviting swimmers of all levels and ages to take part in our Big Brighton Sea Swim 2023 this summer. You can swim 1, 3 or 5 kilometres or just dash in for The Big Dip!
Even if you do not want to swim you can volunteer to help at the event, and of course sponsor the swimmers who are raising money for the Friends, including many Clinical staff from our local hospitals. This will go to to the front line of the NHS to help fund the work we do supporting patients and staff in hospital.
To launch Big Brighton Sea Swim 2023 we held a talk all about cold water swimming on Thursday 20 April. We heard from Dr Mark Harper about how to get started and Dr Jo Stokoe about her Channel swimming experience
Mark is a founder member of SeaSure, a Brighton-based community interest project that was created by life-long swimmers to encourage people who may not necessarily get the chance to safely enjoy the sea and its amazing health benefits. Find out more
Mark talks more about this in his video or read his book 'Chill – The Cold Water Swim Cure' available from Kemptown Bookshop and City Books.
Many people took up sea swimming during the pandemic – either as a way of exercising, connecting with nature, or maybe to reap some of its many benefits. Submersion in cold water is widely believed to have the following positive effects:
Teaches your body to deal with stress
Slows your heart rate down
Improves your cardiovascular system and lowers blood pressure
Reduces inflammation in the body
It may promote a better night's sleep
It builds confidence and improves mental well-being
Our partners Ocean Set offer a range of fitness sessions specifically for swimmers. They will be running group swims to help swimmers prepare for their swim, as well as giving training guidance and support.
The Friends have funded sea swimming courses for NHS staff with Ocean Set which have been incredibly well received.
"I just wanted to say thanks again for arranging the sea swimming course. It really helped me gain confidence sea swimming. I've now made it a regular habit to make it down to the sea during a work day. I find I can cope with almost anything after a bit of a swim – it really clears my head – so I'm sure I work a lot better for it. Hopefully I will keep it up as the weather gets a bit harsher!"
Kate, midwife RSCH
SIGN UP to receive our email newsletter keeping you up to date with events and news